Answering Your Questions & Concerns
At Celebration Eye Care, our aim is to deliver an informative and effective eye care experience. That's why we strive to answer any questions or concerns our patients may have.
Are You Taking New Patients?
Yes! We are accepting new patients and are always thrilled to see our new patients come back. You can book your next appointment here. We look forward to seeing you!
Where Are You Located?
We are located in Downtown Celebration, right across the street from Starbucks. Visit our appointment page for more detailed location information!
Can I Get My Prescription?
Absolutely! Your glasses and contact lens prescriptions are uploaded to your patient portal the day of your exam.
Do My Eyes Have to Be Dilated for My Eye Exam?
It is strongly recommended that you have a dilated eye exam at least once a year. However, health conditions like diabetes, hypertension, high cholesterol, or heart disease can impact the eyes, so we recommend you have more than one dilated eye exam a year.
Photos of the back of the eye cannot replace dilation. Without dilation, we are not able to see the structures in front of the retina, such as the vitreous gel that fills the eye and the lens.
Do My Child's Eyes Have to Be Dilated?
If it's your child's first eye exam—we strongly recommend they have a dilated eye exam. Dilation is important to determine if there are any inherited diseases that can affect your child's vision. It is also important to accurately assess refractive error, which, if uncorrected, can lead to difficulties in school.
I Can't Be Dilated Today. Can I Come Back?
Yes! It is always preferred to have your eyes dilated the day of the exam. But as long as you return within 4 weeks of your exam, there is no fee.
Can I Drive While Dilated?
Yes! Dilation only affects your near vision for a couple of hours. So, as long as you wear your normal corrective lenses for distance, you can safely drive.
What Insurances Plans Do You Take?
You can visit our Insurance & Payment information page to view the list of insurance plans that we accept.
If I Paid in Full When I Was in the Office, Why Am I Getting a Bill?
There are a few reasons this may have happened:
There may have been an error processing your bill, and if we discover that we have made a mistake, our team will get in touch with you as soon as possible.
Your insurance may have denied something, or you may not have met your deductible.
Why Are You so Expensive Compared to Other Optical Chains?
We pride ourselves on providing high-quality eyewear and state-of-the-art technology. We also give you the option of applying the latest tints and coatings, which can help relieve eye strain from digital device use.
Do I Need All These Extra Tests?
We offer extra testing that's not covered by insurance, such as photos of the back of the eye, optical coherence tomography, and even antioxidant screenings.
These extra tests are done for screening purposes to help us catch early signs of eye diseases that cannot be easily seen. We will perform more extensive medical testing if we find something through these screening tests.
What Is Your Return Policy?
Your glasses are custom-fit and ordered for you personally. Due to the custom nature of the eyeglass process, we do not offer a return policy. However, if you are unhappy or having problems, we absolutely want to know.
We ask that you give yourself 2 weeks to adjust to your new frames.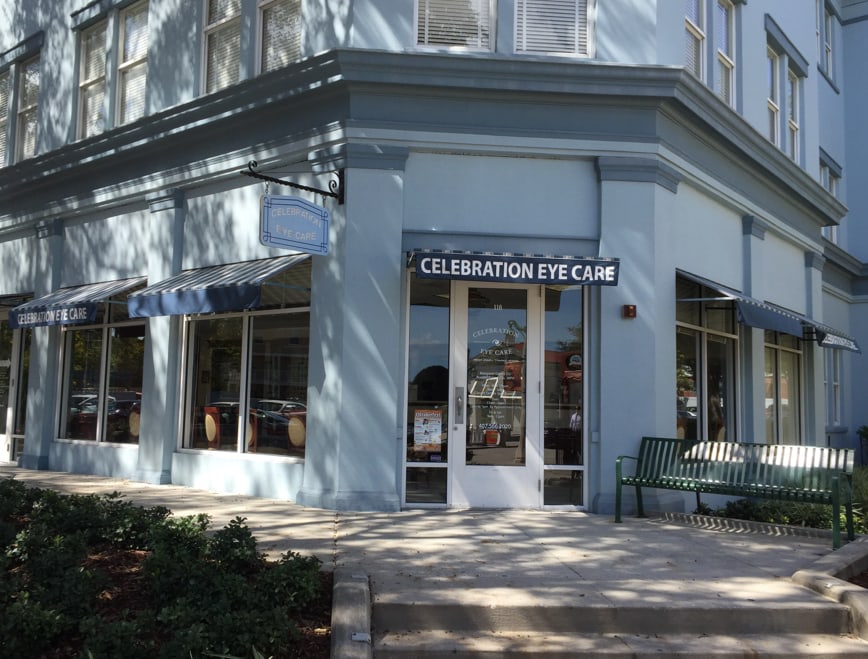 Our Address
Suite 120 741 Front St.

Celebration

,

FL

34747
Contact Us
Clinic Hours
Monday

:

9:00 AM

–

5:00 PM

Tuesday

:

9:00 AM

–

5:00 PM

Wednesday

:

9:00 AM

–

5:00 PM

Thursday

:

9:00 AM

–

5:00 PM

Friday

:

9:00 AM

–

12:00 PM

Saturday

:

Closed

Sunday

:

Closed
Monday to Thursday: Closed 1-2